Author Archive: Heather
April and May look to be very busy times for the Men, who will find themselves singing for happy crowds all over the country in the span of a few short weeks. Catch them in the Mid-Atlantic (Pennsylvania, Maryland, New Jersey), South (North Carolina, Tennessee), Midwest (Minnesota, Nebraska), South Central (Oklahoma), Mountain (Colorado, Wyoming), and Pacific (Washington) regions, all before Memorial Day.
Here's a fun interview that Michael did for their shows this weekend with the Pittsburgh Symphony. Enjoy!
Category: Uncategorized
The spring has flown by, with Michael in New York performing in his off-Broadway show, The View UpStairs, and Christian, Daniel, and Bobby joining up with Jersey Boys alum Travis Cloer to take the show on the road. We were so happy to see Travis welcomed with open arms by TMM audiences across the country. At the same time, we couldn't be more thrilled that Michael is back with the group this Sunday, when they return to the NYCB Theater in Westbury, NY.
Michael sat down with Joe Piscopo on The Joe Piscopo Morning Show (AM 970 The Answer) to talk about his time as Frankie Valli, his recent experiences off-broadway, and his upcoming return to The Midtown Men this weekend. These two go way back, and they had a blast sharing memories and looking ahead to the end of a successful run for The View UpStairs, and this weekend's TMM concert in Westbury.
Take a listen!
Michael Longoria on the Joe Piscopo Morning Show
Category: Uncategorized
Attend any Midtown Men concert and it's hard to miss the first-rate, 7-piece band that plays with them each night. Three of these band members – one saxophone player, one trumpet player, and one trombone player – are known collectively as the Worldwide Horns. The recipe is simple: three handsome guys, shiny brass instruments, crisp black clothing, and smooth choreography. The not-so-secret ingredients are mega musical talent and considerable chemistry. Taken together, it is easy to see why Greg Riley, Jay Webb, and Paul Arbogast have become an expected, not to mention highly anticipated, part of the landscape of any TMM concert. We thought it would be fun to get to know these three a little bit better, and learn more about the Midtown Men experience through their eyes.  Sit back and enjoy as we meet the Worldwide Horns.
How long have you been with TMM?
GR: I have been with them since their first show together in Atlantic City.
JW: I have been subbing with them since the beginning and fully with the band by the end of year 1.
PA: Like Greg, I played the very first show to which Michael, Christian, Daniel, and Bobby decided to add a horn section. March 20th, 2010, at Caesars in Atlantic City, NJ was our first gig with them.
How did you first get connected with the guys?
GR: I had been subbing with Frankie Valli's band for years, off and on, and when the guys were looking for a horn section to play their first show, they asked Frankie's music director for recommendations.
JW: I had subbed in Frankie Valli's band years before, in Atlantic City. When Christian, Michael, Daniel and Bobby were forming the group and looking for a trumpet player, a good friend of mine got the job, and when he left, I was fortunate enough to be able to take over.
PA: Similar to the way Greg got involved, I was recommended by Frankie Valli's tour manager, along with another Philly-area trombonist. Fortunately, my friend who was the first TMM trumpet player interjected with "oh, you definitely want to call Paul first," and the rest is history.
After almost 7 years on the road together, what can you tell us about the experience, and TMM?
GR: No one knew what it would end up being when it started.
JW: Just the closeness of the band, and the way that we have all become good friends.
PA: All of the people that have played in the band have been a pleasure to get to know. Professionally, the level of musicianship is part of what has made it a continuous pleasure to perform. On the personal side, it's been terrific to meet and come to know a bunch of really funny, interesting, and talented souls. And the fact that the stars of the show don't avoid us, but rather engage with the band and embrace our friendship makes it feel like family. All of the guys have become spare uncles to my 15 month old daughter. We have all shared our difficult moments, our vulnerable moments, and our triumphs. The current vibe of the tour is kind and supportive.
What is your current favorite Midtown Men song to play?
GR: I enjoy the challenge of the flute solo in In My Life
JW: Get Together or Got to Get You Into My Life
PA: Daniel's tune, "Get Together". The voicings and harmonies Jesse Vargas wrote for the horns are particularly beautiful to play, and the song has a great message.
Best part about touring?
JW: The best parts for me are getting to do what I love, travel all over and see the world, and meet so many wonderful people.
PA: I suppose I have traveled to many places that most people would never think it worth traveling to, but I think that has ended up being one of the best elements of touring, just because of how much it has affected my perspective about people who are different than me. I believe it's the fundamental thing people in our divided country need: to travel! I have really learned to appreciate the variety in how people do life. It can be starkly different from state-to-state.  [And even beyond] the differences in the US; try going straight from let's say rural Veracruz to Oslo and see the different and beautiful and valid ways they are doing life. It's an incredible education!
Any downsides?
GR: I don't really love the touring aspect, to be honest. I would rather be home, in my routine, doing my thing. But I have accepted touring as part of the gig, and have made my peace with it.
PA: Not being able to take the people I love with me everywhere to share the awesome experience.
Can you tell us a funny story from the road?
GR: We were in South Dakota walking through town after a show and the Mayor of the city stopped us for a photograph. He hadn't been to the show and didn't know who we were, but said "I knew you weren't from around here because of the way you're dressed.
JW: I was in a car with another band member, who shall remain nameless, driving through Florida. We were pulled over for driving too slow! We haven't let him forget about that.
Can you guys tell us some of the highlights from your 7 years with the Midtown Men?
All: There have been so many…playing in front of national audiences on the Today Show and Good Morning America were definitely memorable. Also, just meeting so many people all over the country, and the opportunities that has created.
Category: Uncategorized
From Huffington Post, by Eileen Shapiro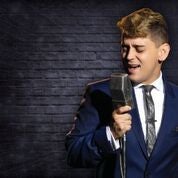 The audaciously talented, and strikingly handsome, star of Broadway, television, and New York City nightlife, will be appearing in what promises to be one of the most sparkling and glittery sensations to hit Manhattan. "The View Upstairs". will be at The Lynn Redgrave Theatre, (45 Bleecker Street, NYC), on February 28th. This glam rock musical production is based upon, the real life gay bar in New Orleans, in the 1970's, which unfortunately burnt to the ground. Written by Max Vernon, and directed by Scott Ebersold, it includes an all- star cast including: Jeremy Pope, Taylor Frey, Nathan Lee Graham, Frenchie Davis, Benjamin Howes, Michael Longoria, Ben Mayne, Nancy Ticotin, and Randy Redd.
Michael Longoria himself has an impressive array of credits consisting of, the starring role on Broadway as Frankie Valli in the Tony Award winning "Jersey Boys", and Hairspray, as well as performing solo in Times Square for thousands for "Broadway on Broadway". He has also appeared on various television shows including, "Broadway Under the Stars", "A Tribute to Harold Prince", and the finale of "America's Got Talent", ( Season 9). Having recently released his new album, "Broadway Brick by Brick", Michael has also performed at "Joe's Pub", "The Cutting Room", and "Caroline's on Broadway". He is also in The Midtown Men, and performs nearly every summer at Cherry Grove.
Although I have interviewed hundreds, Michael's words were one of the most expressive experiences I've ever had. His answers painted the most vivid pictures, and feelings, whereas he caused me to feel what he was feeling…..
What role will you be portraying in "The View Upstairs"?
I play Freddie, who is also the bars drag queen. As a drag queen my name is Aurora Whorealis. There is a few generations in the bar when we flash back into time, into 1973. I play a young and rebellious drag queen, and my storyline is really about a mother and the love for her child. You meet my mother in the middle of the play and you find out that although her son being a drag queen wasn't necessarily her dream for her son, she's comes to love him, and love the Gay bar, and comes to frequent it. You see this woman from Puerto Rico, who came to America with her husband who wanted this American life, and has all these challenges because she has a gay son. Which is a challenge that many parents have to deal with. Obviously we as gay people go through so many trials before we realize that we have the strength to come out to the people that we love, because we are afraid we're going to lose them. But, as an adult I looked back and I think about my parents and what they had to go through. The fear of the unknown, and the knowing of your child all of a sudden, but really getting to know them deeply, in a way that they didn't know them before. Their sexuality all of a sudden, and what that means. For me I was a Mexican American. My parents were Catholic Mexican, my father was machismo, so coming out to my parents was similar to Freddie. My father didn't accept me right away, and Freddie's father doesn't accept him because he's gay, and he leaves his wife and Freddie. So with all that drama in their life you see the joy that they get from coming to this place, where they meet these characters and these friends from different generations. Nathan plays this wise, fabulous, crazy, queen of the bar. He sits there in judgment, and tells everybody about the way it was. Freddie is the kind that wants to moon everybody outside, and wants to be who he wants to be, no matter what. Even though stonewall happened they were still living in a lot of oppression in the south.
I think there still is to a degree.
Absolutely, Even now I'm sometimes challenged on the street by some asshole who wants to feel manly. That definitely still happens now. The sensation that you get when you first go to a gay bar, I remember that very well. I was a teenager, even though I was underage, being in a place that all of a sudden you know you're not supposed to be in, but you want to be in, and you know you belong. All of a sudden all that hunger and fuzz, without even having a drink, because I was underage, but the feeling and the high of being yourself, of saying anything you want, being anything you want, and having everybody in the bar not give a shit. Of course those times aren't that true anymore, with the shadiness that's around in our days….. But for a young queen who doesn't know about that shadiness, being able to go to a space that's like a utopia, you can really be who you are inside. For Freddie in this play, this is his playground. Not only can he prance around in his bellbottoms, but he can get in his dress and be fabulous, and look like Marilyn Monroe, and really live who is inside, which is this woman, this inner being. So that's who I am, and I get to put on a fun drag show within the show.
It's really fun, and I've never done drag. It's an amazing experience and a learning experience too.
Did they assign you a drag mother?
No, not yet. I've had a lot of drag inspirations, from going to Fire Island, and hanging out at the Ice Palace, you see all of those drag queens perform, and throughout the summer I've got to know them both in and out of drag. What's interesting about playing a drag queen now, I've had crushes on drag queens for the past five years. Interesting weird, like "why do I like you"…. I really admire them especially the funny ones. The ones that are beautiful and then all of a sudden they are hilarious. You have to admire someone that can make a crowd laugh, especially in times like these, when we're laughing and crying at the same time. It's like that nervous laughter that turns into tears. The message of "The View Upstairs", is that ultimately, you had these places in the 70s that were secretive for a community, and it was everybody, everybody within each other, and they had each other's back. That's what we really need to remind each other of now, because the eight years with Obama we've made so much progress, and have felt very liberated in a sense. The fact that we could get married to anyone we wanted, and now all of a sudden it's like psych…."Just kidding"… It's like the carpet being pulled out from under you, and your heart being ripped out of your chest, from an America that you thought was finally understanding you. We have to remind ourselves that we have each other, not just in gay bars, but we are all around. We have each other on Facebook, we have each other in these magazines that I'm talking to right now, in these relationships that are forming, and the only way to really get through it, is by loving each other, in any way that we possibly can. That's by supporting each other, going to the drag shows, and telling them they're fabulous, even when sometimes they might not be.
Rule one, never insult a drag queen, too much work goes into it….
Ever, ever, ever…. It takes a lot of balls… Literally… And it takes a lot of courage and heart. Those people have a lot of heart. Those drag queens that I know have both sides, they are evil in a sense, they have to have that hardshell of protection from bullies while growing up a lot of times, but they also have this enormous sensitivity that is very loving in nature. Maybe that's why I fall in love with these drag queens, because I see both sides, and both sides are beautiful. They bring out the best in all of us because they make us laugh.
I love drag queens more than life itself, I use to own a gay bar.
So then you know, the community that can form, the drama that can happen, and all of the relationships that happen. These characters are loosely based on some of the victims, that could've been there, like me, if I was living at that time I would've gone to that bar. In fact, this was the biggest killing of the gay population before Orlando. I've been to Pulse, I've been to Latin night, I tour and I've been to those specific parties. So, it could've been me. So to know that it happened, and those souls were not allowed to be grieved for, a lot of those parents couldn't claim those kids that were in the fire because they were afraid that they would get blacklisted, or lose their jobs because they had gay family. It was so weird and so heartbreaking. One of the characters is based off of someone who might have been one of the three unidentified bodies that was buried in a mass grave. So it's sort of a story that needs to be told, and it's very bold of them to be bringing this right now. It's scary but it's also liberating.
Read original article here.
Category: Michael Longoria
2017 finds The Midtown Men in the middle of their 7th (SEVEN!!) year touring together. It also brought a change, albeit temporary, to the group, as Michael is on a leave of absence for a few months. We have always known that these four guys are first-rate performing artists, and it's been so fun to see how, over the years, they have each been able to pursue their own creative outlets.
So what is Michael up to? Last night, the NYC theater community was privileged to see Michael begin previews in a new Off-Broadway show, called The View Upstairs. The show opens on February 28, and if you're in the area, you will NOT want to miss this! Michael shows off his singing, dancing, and acting chops in a fun role that he helped create. The View Upstairs was inspired by one of the most significant yet all-but-ignored attacks against the LGBTQ community. It examines what has been gained and lost in the fight for equality, and how the past can help guide all of us through an uncertain future. Words that have been used to describe the show already include "beautiful," "powerful," "vibrant," and "important."
Check it out if you're going to be in the NYC area this spring!!
Tickets at www.theviewupstairs.com.
For those of you concerned about what this means for TMM, rest assured! During Michael's leave of absence, Travis Cloer, of Las Vegas (and Broadway) Jersey Boys fame is joining Christian, Daniel and Bobby on tour coming soon to a city near you!
Category: Michael Longoria
The Midtown Club would like to wish Bobby the happiest of birthdays today! We hope this year brings you as many smiles and laughs as you bring your audiences!
Category: Uncategorized
Thanks so much to everyone who sent us their pictures. What fun to share in your fun!
Category: Concerts
Considering the amazing night with The Midtown Men at BB King's last May and the upcoming closing of Jersey Boys after 11+ years on Broadway, the January 8th concert at BB King's had all the makings of a very special evening. I think those in attendance would agree – it did not disappoint!
The audience arrived early to dine and chat with friends before the show. All over the room, there were greetings and hugs as friends were reunited in their mutual love for this group.
Some very special friends of TMM were in the room as well, including long-time friends and supporters Stevie and Maureen VanZandt, Jay Siegel (the Tokens), and Gene Cornish (the Rascals).
Also introduced from the stage were members of the Jersey Boys family, both past and present. Original Cast members Peter Gregus (Bob Crewe), Sara Schmidt ("My Boyfriend's Back), alumni Russell Fischer and Travis Cloer (Broadway, Vegas Frankie), as well as current and final cast member Chris Messina cheered and danced their way through the show.
Christian, Michael, Daniel, and Bobby fed off the energy from the audience, and appeared to be having as much fun as all of us. It was a truly special night in midtown, and the best way to start the new year. Were you there? Send us your pictures (Tmmclub@comcast.net) and we'll post them!
Category: Concerts
The Midtown Club would like to wish the happiest of birthdays to that adorable tenor of ours, Michael Longoria!
2016 has been a smashing year for you so far and we can't wait to see what the future holds! We love you and are behind you all the way. Have a wonderful day celebrating YOU!
Love, The Midtown Club
Category: Michael Longoria
As if Bobby wasn't busy enough touring with the Midtown Men, he is always keeping busy with other theater projects. Longtime Jersey Boys and TMM friend Pam Singer was in the audience when Bobby took the stage in New York City this past weekend. She was kind enough to share her thoughts about the experience:
"Lest anyone think Bobby Spencer is simply the fantastic singer, dancer and Midtown Man one sees on stage, think again. Bobby is an amazing actor whose voice, expression, demeanor and body language truly make a character come alive. Case in point: 'Breaking The Shakespeare Code', a 2 person character study that Bobby and Erikka Walsh brought to life in an intimate reading this week. Those of us fortunate enough to be there witnessed a thrilling 80 minutes of cascading emotions and crackling chemistry. There's a reason this man is a Tony nominated Broadway actor! He's got talent to burn. A lovely reception followed the reading, and as always, it was great to chat with Bobby. Look forward to seeing him and the other Men again soon."
Doreen and Frank Capasso were also in the audience and added these thoughts: "The play itself was brilliantly written; it leaps through time without leaving anything out. Bobby really puts his heart and soul into everything he does; we all see it when he performs with the Midtown Men but the outside projects he chooses really showcase a different side of his talent. His acting was out of this world!"
Congratulations Bobby! We can't wait to see what you do next!
Category: Uncategorized